GOD BLESS TEXAS!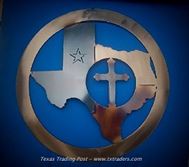 We are delighted to bring you a variety of Texas crosses - some of them are miniature size, perfect for that small, special spot in your home or office. And then, there are our Texas-size crosses that are definitely a stand-alone piece of home or garden decor.

Check back with us often as we will be adding to our Texas crosses category as we find those special, unique items that we think our fellow Texans will enjoy. These crosses are beautiful pieces of Texas Home Decor and will also make a very special Texas gift!
| | |
| --- | --- |
| | GOD BLESS TEXAS! |
~~~~~~~~~~~~~~~~~~~~~~~~~~~~~~~~~~~~~~~~~~~~~~~~~~~~~~~~~~~~~~~~~~~~~~~~~~~
Cross with the Texas State Seal and "1845" - Absolutely beautiful Texas decor! This will be custom cut for you by our craftsman and will be sent directly to you (takes up to 2 weeks).

$89.99

Horseshoe Cross with Texas Lone Star measuring 26" x 21" - Outstanding Texas or Western Home Decor or the perfect Texas Gift!

$59.99

Miniature horse shoe cross with Texas Lone Star-great home decor or a perfect Texas gift!(7" x 5")

$11.99

"God Bless This Home"-16" diameter. Outstanding Texas Home Decor, or the perfect Housewarming Gift! Our metal art craftsman will custom cut this sign for you and will send it to you directly. Not available for local pickup.

$125.00

Outstanding Texas Metal Art - the Texas State Map with a cross in the middle of our Great State! Perfect Texas home or office decor! This will be custom cut and mailed directly to you by our craftsman (takes about 2 weeks).

$125.00

Featured Items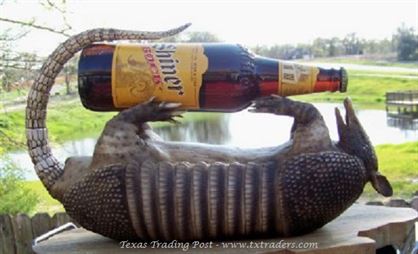 Armadillo Wine Holder
Lifelike Armadillo Bottle Holder for Wine or Beer- Great Texas Bar Decor and one of our biggest sellers for Texas gifts!(That Shiner in the picture is 24 oz)
$64.99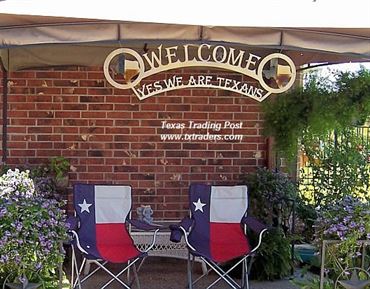 Welcome Yes We Are Texans Metal Art
"Welcome Yes We Are Texans" - 4' Metal Art sign that truly shows off your Texas pride! Please note, we have these signs made for us as we get orders for them - expect 2-3 weeks delivery time.
$250.00