GOD BLESS TEXAS!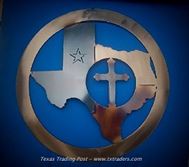 We are delighted to bring you a variety of Texas crosses - some of them are miniature size, perfect for that small, special spot in your home or office. And then, there are our Texas-size crosses that are definitely a stand-alone piece of home or garden decor.

Check back with us often as we will be adding to our Texas crosses category as we find those special, unique items that we think our fellow Texans will enjoy. These crosses are beautiful pieces of Texas Home Decor and will also make a very special Texas gift!
| | |
| --- | --- |
| | GOD BLESS TEXAS! |
~~~~~~~~~~~~~~~~~~~~~~~~~~~~~~~~~~~~~~~~~~~~~~~~~~~~~~~~~~~~~~~~~~~~~~~~~~~
Cross with the Texas State Seal and "1845" - Absolutely beautiful Texas decor! This will be custom cut for you by our craftsman and will be sent directly to you (takes up to 2 weeks).

$89.99

Horseshoe Cross with Texas Lone Star measuring 26" x 21" - Outstanding Texas or Western Home Decor or the perfect Texas Gift!

$59.99

Miniature horse shoe cross with Texas Lone Star-great home decor or a perfect Texas gift!(7" x 5")

$11.99

"God Bless This Home"-16" diameter. Outstanding Texas Home Decor, or the perfect Housewarming Gift! Our metal art craftsman will custom cut this sign for you and will send it to you directly. Not available for local pickup.

$110.00

Outstanding Texas Metal Art - the Texas State Map with a cross in the middle of our Great State! Perfect Texas home or office decor! This will be custom cut and mailed directly to you by our craftsman (takes about 2 weeks).

$110.00

Voted Best of the Brazos
Valley for Online Shopping
2011, 2012 and 2013!


Featured Items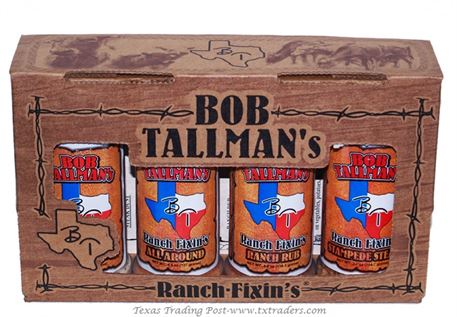 Bob Tallman's Texas Sampler - Texas Seasonings
The legendary Bob Tallman, who has been honored eight times as the PRCA Announcer of the Year has launched an amazing line of Texas seasonings! What a perfect Texas gift...and Made in Texas by a very famous Texan!
$24.99
Shop Securely
Voted Best of the Brazos Valley For Online Shopping
2011, 2012 and 2013