GOD BLESS TEXAS!



Texas Dog Collars, Dog Houses, More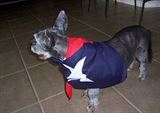 It's fun finding stuff for our Texas dogs...no matter where in the world they might be! Whether you're looking for a tough, leather dog collar with the State Seal of Texas concho on it, or a LED dog collar and leash that'll keep you and your puppy safe while you're walking after dark, we do what we can to spread the joy of Texas to our pets.
We also have some other fun Texas themed items for your pets!
| | |
| --- | --- |
| | GOD BLESS TEXAS! |

We are HUB certified!
---
Delightful bone shaped cookie or biscuit cutter - make that precious pup of yours some Texas style doggy treats or, better yet, they'll make perfect gifts for the dogs who have everything! Made in the USA!

$4.99

Texas Style Dog House - let your puppy be the first one in your neighborhood to have their own Texas style char-log cabin dog house!

$199.99

6' Flashing Dog Leash with the A&M logo and Reveille...perfect for using when you're walking your dog after dark!

$19.99

Lighted Dog Collar with the Texas A&M Logo - perfect for walking your dog at night!

$19.99

Texas Flag Bandana for your favorite Texas Dog or Pet! Made in the USA!

$6.00

Sturdy Texas Flag Dog Collar - Your pup needs to show his (or her) Texas pride, too!!! Please click on "MORE INFO" to select the size you need.

$19.99

Featured Items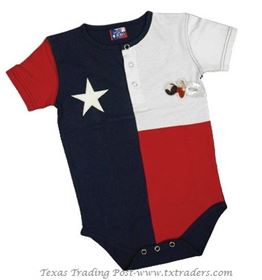 Baby Onesie in the Texas Flag design
Texas Flag Onesie (or Crawler) for that precious Texas Baby...and this will make the best Texas baby gift EVER! Click on More Info to select size - 0-6 months and 6-12 months.
$16.99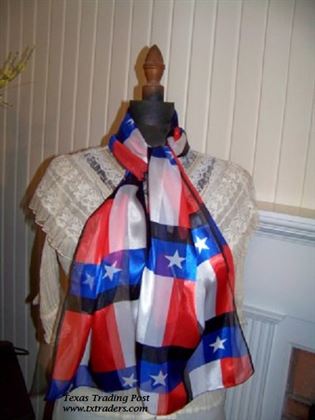 Texas Flag Scarf for the Ladies
Absolutely gorgeous Texas Flag Scarf for the ladies...this is a perfect way to dress up - or even dress down - your outfit for any occasion!
$14.99