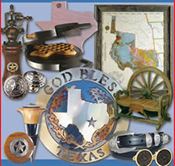 Being born 'n raised Texans, we're mighty proud to offer you the finest gifts and decor - at the most affordable prices online.

We've helped Texans around the world bring "a little bit of Texas" into their homes.
We can't forget our Texas pups, can we? Check out our newest Texas Flag Dog Collars - our puppies have to show off their Texas pride, too!

Whether you're looking for special Texas gifts, Texas bedspreads, Texas flag shirts or t-shirts or you're just lookin' to decorate your home Texas-style...well, just kick back and relax because we've got it all.



If you don't see it here, give us a holler and we'll help you find it! Don't forget to sign up for our mailing list so we can notify you when great new items arrive.

We appreciate your visiting our store and spending a little bit of time with us in the Great State of Texas.