GOD BLESS TEXAS!

Howdy...and "Welcome to a little bit of Texas!"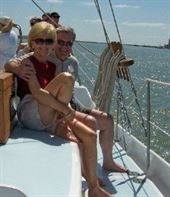 My high school sweetheart - my best friend - my husband - and my business partner, Russ, passed away very unexpectedly recently. Needless to say, this has turned my world upside down.

I'm leaving the "About Us" as it is, as a tribute to Russ who helped build the Texas Trading Post into what it is today. We have such a wonderful "love story," and it's something we always loved sharing with y'all.


We're Russ and Linda and we've known each other since 7th grade. We were high school sweethearts and went our separate ways in college. 41 years later, we're now married, and between us, we have five kids, six grandkids, and a crazy old cat.

Russ (who is a 6th generation Texan) is retired from the U.S. Department of Agriculture and Linda spent over 20 years in the Hospitality and Travel Industry. Together, we manage our online store, "Texas Trading Post-Fun Texas Stuff," which we've operated for over 15 years! It's now become the largest online store for Texas gifts and decor on the internet!
We've moved back to our hometown of College Station, where we've renovated the house Linda grew up in. It carries the Texas theme throughout (imagine that!), and it's even more special as the fourth generation of kids are now enjoying coming over to Gammie's and Grandy's house.
Linda serves on the College Station City Council and she is also actively involved as a volunteer with the College Station Police and Fire Departments.
We are proud that we have an A+ rating with the BBB and we are also members of the B/CS Chamber of Commerce. She is also actively involved as a volunteer with the College Station Police and Fire Departments.

We are members and volunteers of Covenant Family Church and we owe our success to the Good Lord.
We can now proudly say we are an "award winning website" having been voted the "Best Online Shopping in Brazos Valley for 2011 through 2017.

We are constantly finding new items to post...and we have shipped "Texas" all over the world...to our military men and women, to a gentleman in Russia who wanted a Texas beer can opener, to all over Europe, Asia and North America.

We don't try to compete with the "big guys"...it's just the two of us, and a small staff of dedicated Texans, who have found something that we thoroughly enjoy doing together. We refuse to play "cutesy" and write like we Texans are redneck hillbillies... Texans come from all walks of life and we're all very proud of our heritage, so you'll just find plain ol' English in our descriptions (which means we write like we talk, for the most part).

We share a passion for our home state and we have made so many friends all over the world...mostly mis-placed Texans, but others who just love the Texas lifestyle. It's exciting for us to know that many of our Texas signs and Texas decor are in numerous restaurants in Sweden, that a family in Australia is playing with Texas beach balls, our Texas neon sign is in the Texas Burger Restaurant in Mexico and our Canadian friends have Texas flag coolers. Our German friends are driving down the Autobahn with "Don't Mess with Texas" bumper stickers and our British buyers have Texas dinner dishes because they love everything about Texas.

Many of our buyers have become friends...even though we haven't met, we have bonded through our store, sharing in family sorrows and joys. This is what motivates us to continually provide you with new things from Texas...the friendships, the emails, the finding of special things you're looking for that no one else can find...check out our Testimonials Page and you'll see why our buyers keep coming back time and time again.

Men and women actively serving in the military- or who have served - receive a discount, so please use the "DD214" code at checkout (must have military email address).

We are proud Members of "Go Texan." sponsored by the Texas Department of Agriculture. Our aim is to keep Texas products in the public's eye...worldwide. We are committed to providing as many "Made in Texas" items as we can to our buyers around the world. We are also members of the Bryan/College Station Chamber of Commerce.

So, thank you for spending a little bit of time with us in Texas...even if it is through our store. Please don't hesitate to contact us...we pride ourselves on our friendly customer service and we look forward to adding you to our circle of friends. God Bless Texas!



You might have noticed "HUB Certified" with the Texas State Seal displayed on our website. This means we are approved to do business with the Great State of Texas and any other Texas entity receiving State Funding.

Funding for our website provided by the Good Lord - We thank Him every day for our success!