We have the kind of "job" that puts us in touch with mis-placed Texans all around the world. Through our store, we wind up developing wonderful friendships with our buyers...most likely, we won't ever meet, but we keep in touch through emails and even phone calls...just visiting as if we were family.
We'd like to share some of the photos that have been shared with us...and we encourage you to share your pictures with us as well. Texans are just one big family, and it's heartwarming to see they've included us in theirs.
Declared as the "Texas Embassy" Staff Sgt. Kovacsy
has outdone himself in Georgia...there's absolutely no
doubt where he's from...and "Gizmo" is also a born 'n raised
Texas dog! (update on Staff Sgt. Kovacsy...he's coming
back home to Texas and will be stationed at Fort Hood!)
Welcome home!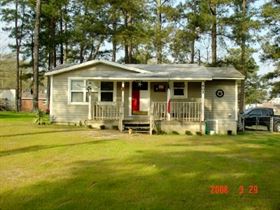 One of our favorite buyers out of Michigan, Nova, at
her son's graduation from Basic Training...and right
before he shipped out to Iraq. (good news, we
just heard Judd is coming home soon!)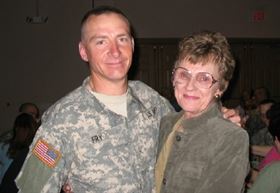 From Ruth Ann, in Florida, who bought a lot of our
Texas Beach items and isn't at all subtle about
where she's from when she and her family go to
the Florida beaches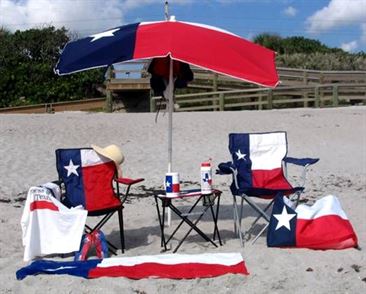 This is Lo, who's from Chicago and married to
our movie star friend, Michael Ray (who is pure Texan)...
we think he has done a superb job of Texify-ing her!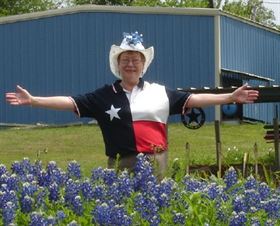 This is from Kim, another mis-placed Texan, who is now
living in Brunswick Georgia. She and her husband have
built a new home and she bought the ceramic bluebonnet
knobs for her laundry room and the Texas State Seal
knobs for her kitchen.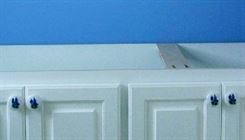 SSG Moore is the Head Medic for his company in
Mosul Iraq, and we are so honored that he sent these
pictures of his new Texas Flag Comforter Set and the
"Come and Take It" flag (along with the "Mis-Placed
Texan" sticker) we sent him as a "thank you" for
serving our country. Stay safe, SSG Moore!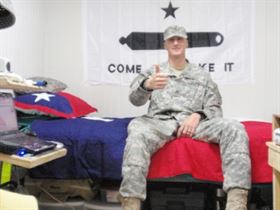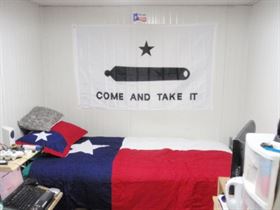 I recently purchased some Texas Star Curtain tie backs as my brother and I turned the Hall Closet into The Entertainment Library. Please find attached a few pictures with how the Library came out. Thank you so much and on a personal note, my Brother especially enjoyed the "Thank You and God Bless Texas" note you placed inside our order, you never seem to get that from any other place but Texas! God Bless Y'all and GOD BLESS TEXAS - Brandon, Fort Myers, Florida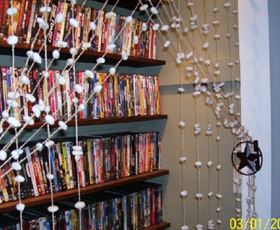 These amazing photos are from Eric who served in Afghanistan and is safely back in the United States. There's no doubt that Eric is a very proud Texan! Hoo Rah!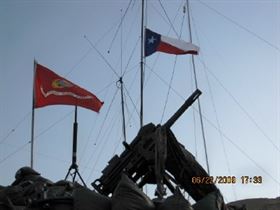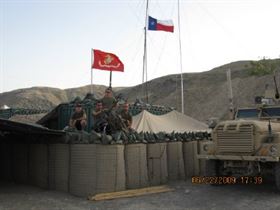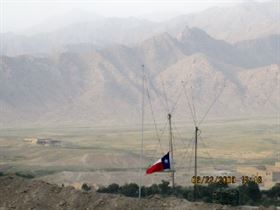 We are privileged to ship to Texans all over the world, and it is an honor to send "a little bit of Texas" to our brave men and women serving in the Armed Forces. We often stay in touch with them, and are always relieved when those who are serving in Iraq and Afghanistan have made it home safe and sound. Sgt. Guervera sent us this picture of his unit (we sent them the 2 flags and Texas clock) - the 1-141 Infantry Texas National Guard Motorpool in Camp Liberty, Iraq. Based out of San Antonio, Texas, they still have another five months to go in Iraq, and Sgt. Guervera is looking forward to his next assignment in Afghanistan. God Bless, Stay Safe! Thank you for your service to our country!