Send us a Testimonial


Featured Items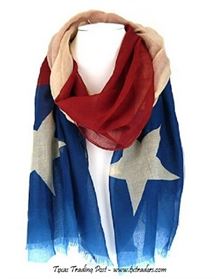 Texas Flag Scarf
This gorgeous vintage Texas Flag scarf is perfect for our Texas ladies - measures 24" wide and 67" long. So whether you're going somewhere casual...or somewhere fancy...this is one of those must haves!
$19.99
Fishing Shirt with Texas Flag - Short Sleeve
A Texas Flag fishing shirt! Wow! The perfect shirt to be wearing when you talk about the big one that got away...(-: - Also available in Long Sleeves! Click on "more info" to select your size.
$39.99