Send us a Testimonial

Item Reviews

Texas Flag Charm
2/4/2015
I saw this on your Facebook page and just HAD to have it...it's even more beautiful than the picture! I love it!
- Anonymous

texascharm
12/14/2015
Have not received it yet, just ordered. I like how it looks
- Anonymous

Perfect!
2/9/2017
This is a wonderful Texas Flag charm/bead! It's a nice size and well made. Exactly what I was looking for. Thanks Linda! :-)
- Mary Reeves

It's heading to Australia !
1/3/2018
Just ordered and waiting now for delivery. Can't wait to receive this sweet charm flag which will be a constant reminder of my beloved Texas, which is forever in my heart but this is to wear every day here in Australia on my wrist and , until we see y'all's again! Thanks so much Linda, thrilled to be able to order internationally!
- Jacqueline Spanos

Featured Items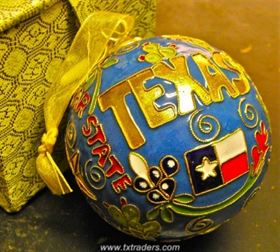 Cloisonne "Pure Texas" Exclusive Ornament
"Pure Texas" cloisonne ornament - our design, ours exclusively! This is the perfect year 'round ornament for your home or office, and it will make an awesome, one of a kind Texas gift!
$49.99