Send us a Testimonial

Item Reviews

Texas Flag Charm
2/4/2015
I saw this on your Facebook page and just HAD to have it...it's even more beautiful than the picture! I love it!
- Anonymous

texascharm
12/14/2015
Have not received it yet, just ordered. I like how it looks
- Anonymous

Perfect!
2/9/2017
This is a wonderful Texas Flag charm/bead! It's a nice size and well made. Exactly what I was looking for. Thanks Linda! :-)
- Mary Reeves

It's heading to Australia !
1/3/2018
Just ordered and waiting now for delivery. Can't wait to receive this sweet charm flag which will be a constant reminder of my beloved Texas, which is forever in my heart but this is to wear every day here in Australia on my wrist and , until we see y'all's again! Thanks so much Linda, thrilled to be able to order internationally!
- Jacqueline Spanos

Featured Items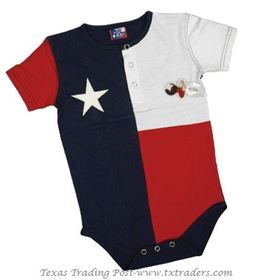 Baby Texas Flag Onesie for your Texas Baby
Texas Flag Onesie (or Crawler) for that precious Texas Baby...and this will make the best Texas baby gift EVER! Click on More Info to select size - 0-6 months, 6-12 months, 12-18 months and 18-24 month sizes. Click on More Info to select the size
$14.99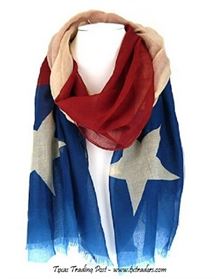 Texas Flag Scarf
This gorgeous vintage Texas Flag scarf is perfect for our Texas ladies - measures 24" wide and 67" long. So whether you're going somewhere casual...or somewhere fancy...this is one of those must haves!
$19.99