Send us a Testimonial

Item Reviews

Scotland Loves This
5/15/2017
Bought some of these for Mum in Scotland; she loved them; I loved that they were so very light and saved us from luggage issues;
- Una Cardenas

Always a pleasure!
9/23/2016
I just ordered the scarf for a Christmas present (actually ordered 4!). Although I haven't received them yet, I have done enough business on this site to know I'll be getting a quality product. Thanks Linda!
- Dana Blaylock

TEXAS SCARF
12/1/2015
I love shopping Texas! I was born & raised here & am proud to be a Texan!! I also inquired about Tx boot stockings & the hangers on mantle w/ them. Hope to hear from y'all soon!!!🇨🇱🇨🇱🇨🇱
- Pamela McCall

Nice scarf
10/31/2015
I ordered one for myself and loved it so much I ordered another for my daughter for Christmas.
- Cyndi Coker

Texas Flag Scarf
3/17/2015
I saw this on your Facebook page and ordered it immediately. It's so much nicer than the picture. What a great way to show off my Texas pride! Love it!
- Anonymous

Featured Items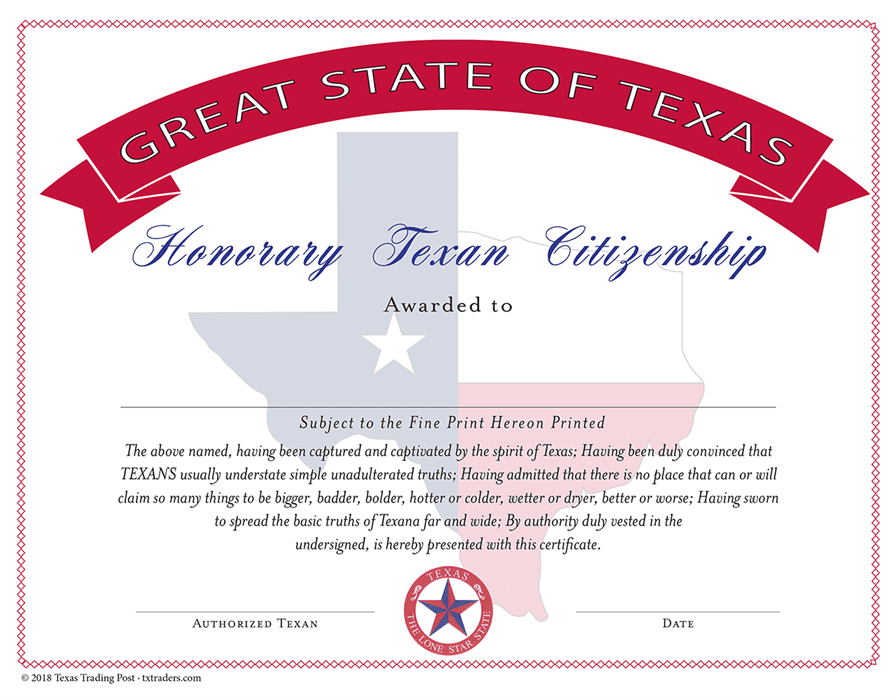 Honorary Citizen of the Great State of Texas Certificate
This certificate is to be given to anyone you want to make an "Honorary Citizen Certificate of the Great State of Texas" - perfect for convention amenities, VIP's, and just about anyone else! Click on More Info" for Calligraphy.
$9.99