Send us a Testimonial

Item Reviews

Texas history buff
5/26/2016
Been looking for one of these for a while now. Heard about you from a friend. This flag will round out my flags to fly while at the beach and other family gatherings. Thanks,
- Anonymous

Come and Take It Flag
1/6/2015
I sent your Come and Take It Flag to our son when he was serving overseas. He said his fellow Texans recognized the flag immediately and let out a big "whoop" when they saw it. He is back home now and It is proudly flying in front of his house.
- Anonymous

Featured Items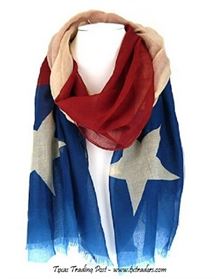 Texas Flag Scarf
This gorgeous vintage Texas Flag scarf is perfect for our Texas ladies - measures 24" wide and 67" long. So whether you're going somewhere casual...or somewhere fancy...this is one of those must haves!
$19.99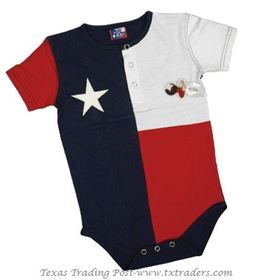 Baby One-Piece Set in the Texas Flag design
Texas Flag Onesie (or Crawler) for that precious Texas Baby...and this will make the best Texas baby gift EVER! Click on More Info to select size - 0-6 months, 6-12 months, 12-18 months and 18-24 month sizes. Click on More Info to select the size
$14.99
Cowboy Figurine with our Texas Flag
This cowboy is standing up in front of our Texas flag and he's got his eyes on something...create your own story what he's looking for. Measures 18.5" x 10"
$44.99