Send us a Testimonial

Item Reviews

Love this game!!
6/13/2017
I LOVE my Lonestar-Oploy game!!! I'm a hardcore Texan and I pop this game out anytime we have company! Thank you!!!!
- Megan Bell

Lone Star-opoly
2/4/2015
I just wanted to let you know how much the grandkids and I enjoyed playing this game over the holidays! Great fun, great game!
- Anonymous

Featured Items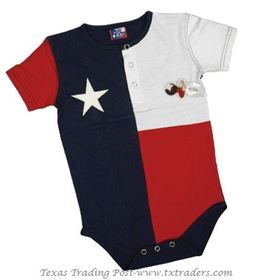 Baby Texas Flag Onesie for your Texas Baby
Texas Flag Onesie (or Crawler) for that precious Texas Baby...and this will make the best Texas baby gift EVER! Click on More Info to select size - 0-6 months, 6-12 months, 12-18 months and 18-24 month sizes. Click on More Info to select the size
$14.99
Fishing Shirt with Texas Flag - Short Sleeve
A Texas Flag fishing shirt! Wow! The perfect shirt to be wearing when you talk about the big one that got away...(-: - Also available in Long Sleeves! Click on "more info" to select your size.
$39.99