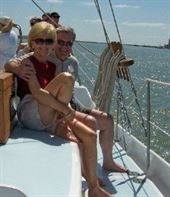 We started the Texas Trading Post when we decided to retire from our corporate jobs, thinking it would be something fun to do for a couple of hours a day.
Our webmaster told us it would be at least six months before we got our first order, but six weeks later, after going "live," we were slammed with orders from our fellow Texans around the world...and the rest is history. We're now the largest online store for Texas gifts and decor on the internet.
My high school sweetheart - my best friend - my husband - and my business partner, Russ, passed away very unexpectedly, and it pretty much turned my world upside down. He was a 6th Generation Texan and he would never want me to give up. Being a very small business, I continue to offer the finest (and funnest) Texas gifts and decor you'll find anywhere.
When I'm not out at my warehouse packing up orders for y'all, I also serve on the College Station City Council and I'm very actively involved as a volunteer with the College Station Police and Fire Departments. I'm blessed with three beautiful daughters and eight grandkids.

We consistently maintain an A+ rating with the Better Business Bureau and we are also members of the Bryan/College Station Chamber of Commerce.

We can also proudly say we are an "award winning website" having been voted the "Best Online Shopping in the Brazos Valley" every year since 2011.
We are also proud Members of "Go Texan." sponsored by the Texas Department of Agriculture. Our aim is to keep Texas products in the public's eye...worldwide.
We are constantly finding new items to share...and we have shipped "Texas" all over the world...to our Misplaced Texans, our Military men and women, to a gentleman in Russia who wanted a Texas beer can opener, to all over Europe, Asia and North America.
You might have noticed "HUB Certified" with the Texas State Seal displayed on our website. This means we are licensed to do business with the Great State of Texas and any other Texas entity receiving State Funding.

So, thank you for spending a little bit of time with us in Texas...even if it is through our store. Please don't hesitate to contact us...we pride ourselves on our friendly customer service and we look forward to adding you to our circle of friends. God Bless Texas!

Linda Harvell
Funding for our website provided by the Good Lord - We thank Him every day for our success!

Check out our Facebook page - Texas Trading Post!