Featured Items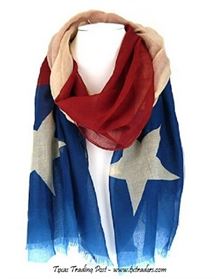 Texas Flag Scarf
This gorgeous vintage Texas Flag scarf is perfect for our Texas ladies - measures 24" wide and 67" long. So whether you're going somewhere casual...or somewhere fancy...this is one of those must haves!
$19.99
Cowboy Figurine with our Texas Flag
This cowboy is standing up in front of our Texas flag and he's got his eyes on something...create your own story what he's looking for. Measures 18.5" x 10"
$44.99