We have literally hundreds and hundreds of buyers all over the world who are either mis-placed Texans, they visited Texas, or they just love the Texas spirit and lifestyle.
We've decided to post the occasional "picture from home" on our website, and if you have a special Texas picture you'd like to share, please send it to us in a jpeg. format.
An afternoon on Corpus Christi Bay, listening to Jimmy Buffett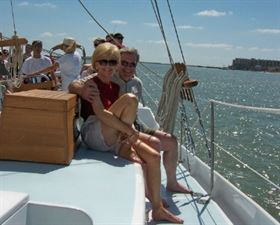 Bluebonnets and Snow in the Springtime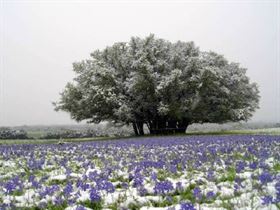 Russ with our State Mascot, the Armadillo (see, we've told you everything is bigger in Texas!)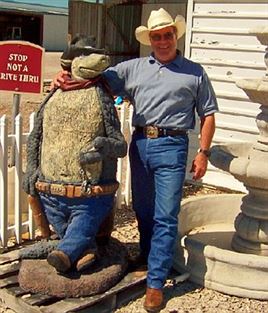 Schulenburg, Texas - Only in Texas...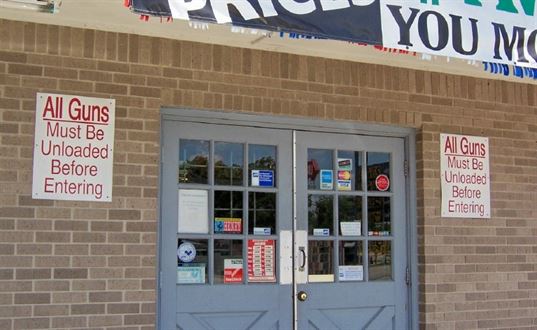 Lightning over Kyle Field - Texas A&M University
Here we are, guests at a VIP Tourism Industry dinner, in Kansas City, Missouri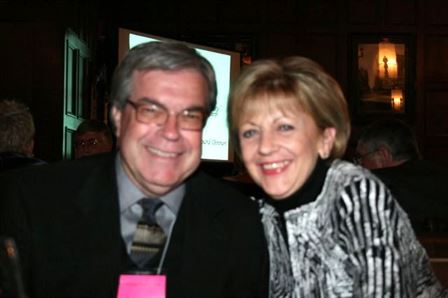 Russ (Viet Nam Veteran), Linda's Dad, Lt. Col. Hank Bloom (retired Army - WWII and Korean War Veteran) and Linda enjoying the Veterans Day Parade in downtown Bryan, Texas, November 11, 2007 (Dad passed away just a few months short of his 90th birthday, and had a full military funeral).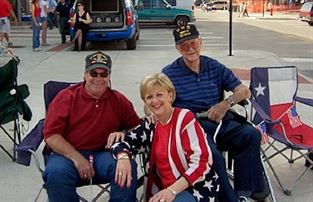 Daughter #3 being asked for her hand in marriage under the Century Tree on the Texas A&M University Campus (she said yes!) Whoop!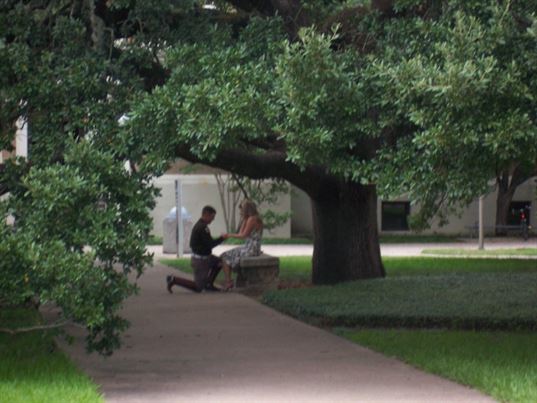 When we started thetradingpostoftexas.com, we figured we'd spend a few hours a day on the internet and have the rest of the day to do whatever we wanted....ummmm....our little store has become quite successful, as you can see by the number of boxes (this is for just one day) ready to be picked up or taken to the Post Office. Don't ever be surprised at what kind of box your item(s) come in or the packing supplies that are used...sometimes we get so many orders, we use whatever is closest at hand so our buyers won't have to wait till our next supply comes in. And thanks to all of our buyers who helped create this wonderful pile of packages...we appreciate YOU and your business very much!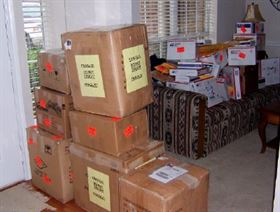 Our 9 year old granddaughter - showing in her very first livestock show - took two first place awards with her steer "Eddie"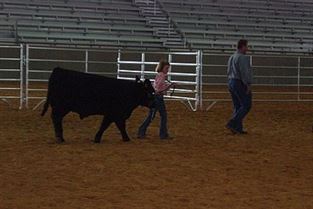 On our way to market in Dallas, we stopped for lunch at Boss Hog's BBQ in Marlin, Texas...we highly recommend it...not only is it just "Pure Texas" - from the ambiance and friendliness and outstanding BBQ - there's also "Nemo, the tea drinking donkey." Linda is giving Nemo a big glass of tea (she prefers sweetened tea)...she didn't miss a drop...y'all just gotta stop here and eat...and visit Nemo, of course!