Item Reviews

Histerical Plaque - On April 21, 1836...
10/17/2015
We bought this as a housewarming gift for our daughter...she and her husband laughed until they had tears streaming down their faces. Thank you so much for offering this fun sign...it's perfect and it truly is the perfect gift for just about every Texan!
- Anonymous

Great histerical plaque
10/9/2013
Great quality, solid plaque w/ very legible lettering. Exactly as pictured w/ super fast order processing. I would recommend to friends and family without hesitation.
- Anonymous

Featured Items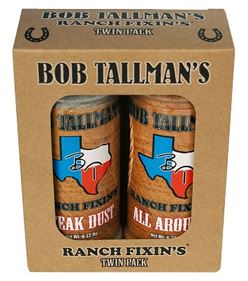 Bob Tallman's Texas Twin Pack - Texas Seasonings
The legendary Bob Tallman, who has been honored eight times as the PRCA Announcer of the Year has launched an amazing line of Texas seasonings! What a perfect Texas gift...and Made in Texas by a very famous Texan!
$14.99