Send us a Testimonial

Item Reviews

LOVE Showing Where My Heart Is-Texas!!
1/11/2016
I'm an avid Texan, but married a Biloxi (Bu-LUX-ee), Mississippi (Miss'-sippi) boy and have long lived in South Mississippi, close to the Gulf Coast & sailing, and also New Orleans & fun. Having this mini-Misplaced Texan sticker on my fridge is delightful, so now I'm sharing with other Misplaced Texan family & friends, one in Connecticut, honorary!!
- Dee Andrews

Featured Items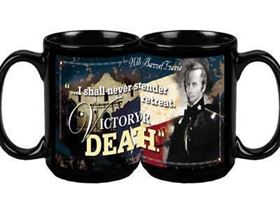 Coffee Mug - William B. Travis Famous Quote
Texas size coffee mug with William B. Travis quote at the Alamo "I shall never surrender nor retreat. NOTE: Two mugs are shown so you can see what both sides look like...this is for only ONE mug!
$11.99