Send us a Testimonial

Item Reviews

Featured Items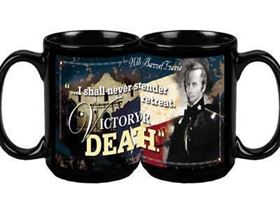 Coffee Mug - William B. Travis Famous Quote
Texas size coffee mug with William B. Travis quote at the Alamo "I shall never surrender nor retreat. NOTE: Two mugs are shown so you can see what both sides look like...this is for only ONE mug!
$11.99
Cowboy Figurine with our Texas Flag
This cowboy is standing up in front of our Texas flag and he's got his eyes on something...create your own story what he's looking for. Measures 18.5" x 10"
$34.99