Send us a Testimonial

Item Reviews

Comfort, function & pride!
8/3/2015
I love my Texas flag apron! Unlike some aprons, this one doesn't make you miserable when you're BBQ-ing in the 90-100* summer heat. It's not stiff at all. In fact, it's so comfortable, I sometimes forget to take it off after all the food is inside and I'm about to eat. Highly recommended!
- Thomas Dugas

Featured Items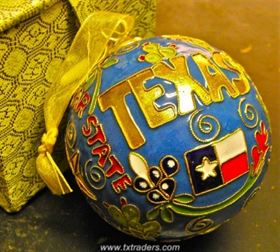 Cloisonne "Pure Texas" Exclusive Ornament
"Pure Texas" cloisonne ornament - our design, ours exclusively! This is the perfect year 'round ornament for your home or office, and it will make an awesome, one of a kind Texas gift!
$49.99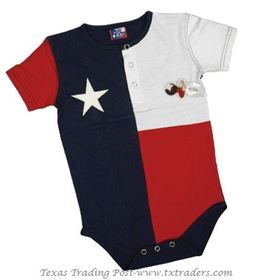 Baby Texas Flag Onesie for your Texas Baby
Texas Flag Onesie (or Crawler) for that precious Texas Baby...and this will make the best Texas baby gift EVER! Click on More Info to select size - 6 months, 12 months, 18 months and 24 month sizes. Click on More Info to select the size
$14.99