Send us a Testimonial

Item Reviews

Love this game!!
6/13/2017
I LOVE my Lonestar-Oploy game!!! I'm a hardcore Texan and I pop this game out anytime we have company! Thank you!!!!
- Megan Bell

Lone Star-opoly
2/4/2015
I just wanted to let you know how much the grandkids and I enjoyed playing this game over the holidays! Great fun, great game!
- Anonymous

Featured Items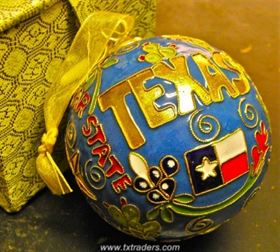 Cloisonne "Pure Texas" Exclusive Ornament
"Pure Texas" cloisonne ornament - our design, ours exclusively! This is the perfect year 'round ornament for your home or office, and it will make an awesome, one of a kind Texas gift!
$49.99